1876
Fr. Mariano Soler founded the Lyceum of University Studies (Liceo de Estudios Universitarios) which, two years later, became the Free University (Universidad Libre). In Uruguay, the Lyceum of University Studies set out to instruct young Catholics with a curriculum that harmonized science and faith
1886
Due to restrictive legislation in the field of higher education, the Lyceum of University Studies is closed down
1954
The Congress of the National Union of Catholic Education, presided over by Bishop Antonio Mª Barbieri, gathers in Montevideo, where the first definite proposals for the creation of a Catholic center for higher education emerged. Then, in March 1954, the Institute of Philosophy was founded on the initiative of the Sisters of the Sacred Heart of Jesus
1962
As the Institute of Philosophy depended on the Episcopal Conference of Uruguay, the position of rector was successively held by Mgr. Antonio Corso, Mgr. Andrés Rubio and Mgr. Carlos Mullin. In the strongly secular Uruguayan society, the Institute was charged with providing a solid humanist formation with Christian foundations
1967
The Institute of Philosophy, which had expanded its courses of study to include other areas of knowledge, was renamed the Institute of Philosophy, Sciences and Letters
1979
The Institute of Philosophy, Sciences and Letters is entrusted to the Society of Jesus and Mr. Manuel Gutiérrez Semprún SJ takes the position of rector. At this time, the new Catholic University project begins to take shape
1981
The Uruguayan Episcopal Conference publicly expressed its willingness to launch a project for the creation of a Catholic University in the country. On November 11, the Uruguayan bishops issued a declaration in which they offered Uruguayan society the Institute of Philosophy, Sciences and Letters, with its almost 30 years of educational experience, as the basis for a prospective private university
1984
On August 22, by decree 343/984, the Catholic University of Uruguay "Dámaso Antonio Larrañaga" (acronym UCU) was established along with its curricula and programs of study
1985
The Sacred Congregation for Catholic Education decreed the founding of the Catholic University of Uruguay "Dámaso Antonio Larrañaga." Bishop Luis del Castillo SJ became the first rector
Mission
We are a pluralistic higher education institution open to the world, committed to excellence, the construction of a more inclusive and fair society, and the dissemination of our culture; we form open-minded people from the educational tradition of the Church and the Society of Jesus.
Values
We espouse a challenging ethos that offers young and adult students, professors and graduates a humanistic academic experience characterized by innovation, excellence in interdisciplinary education, creativity, knowledge promotion, institutional agility and personal, community and global commitment.
"

For it is not much knowledge that fills and satisfies the soul, but the intimate understanding and relish of the truth.

"



Saint Ignatius of Loyola
Society of Jesus
Saint Ignatius of Loyola (1491-1556) had to live in a changing context marked by scientific and geographical discoveries; political and religious reconfigurations; social and cultural changes; and a growing awareness of living in a new and uncertain world. Ignatius was not afraid to change and reformulate plans, to recalculate expectations and ways of acting. Throughout his life he had to rethink and reconfigure himself. But this was not the consequence of a whim or passing fashions, but of living in his heart the desire to go further (magis) which was the fruit of his relationship with Christ.
full story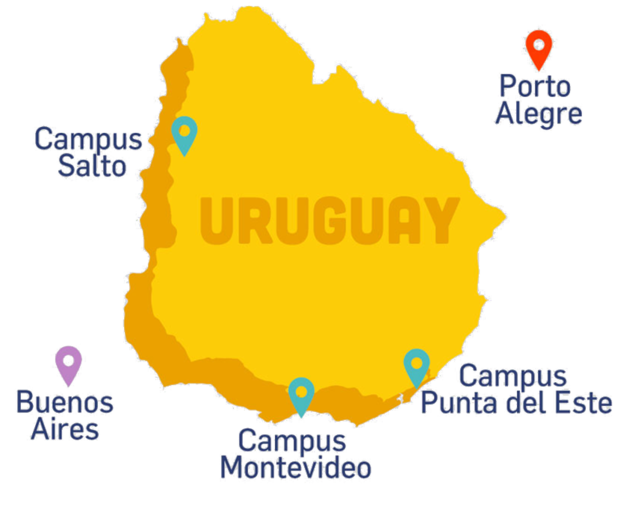 Our campus
Catholic University of Uruguay, the country's first private university, has three campuses: Montevideo, Punta del Este and Salto. We offer more than 40 undergraduate programs, more than 40 graduate programs and three PhD programs. The university is affiliated with the Jesuits Order and belongs to the world network of Jesuit universities. UCU's facilities and infrastructure have been designed to include places for studying, conducting research, learning and practicing. These places promote the development, sharing and discussion of new ideas.